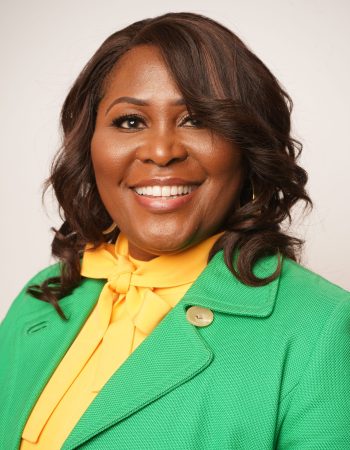 Rev. Dr. Yvette D. Massey
When Yvette D. Massey was licensed into the gospel ministry in 1997, she had already earned a Bachelor of Science in Nursing from Clemson University and was ministering as a registered nurse. However, she sought to minister in a more holistic manner, so she entered the Morehouse School of Religion of the Interdenominational Theological Center (ITC) in Atlanta, Georgia. There she was involved in various student organizations, including the Morehouse School of Religion Baptist Fellowship, and the International Society of Theta Phi, a theological honor society, of which she soon became president. She was a Ford Foundation Fellow during her seminary years and in 2000 she graduated with a Master of Divinity.
In 2001 Dr. Massey was ordained at Mt. Sinai Baptist Church, Pendleton, S.C., and in June of 2005, she was ordained an Elder in full connection in the North Georgia Conference of The United Methodist Church. She has participated on the following conference committees: The Council on Finance and Administration (Secretary), History and Archives, The United Methodist Children's Home (Trustee) and most recently the Board of Ordained Ministry. Currently she is the Chair of the Order of Elders. District activities include the District Committee on Superintendence and District Committee on Finance and Administration. She also served as the president of the North Georgia Conference Black Clergy Women's Organization. Currently Rev. Massey serves as the President of the National Black Clergy Women of The United Methodist Church.
Dr. Massey was previously the Senior Associate Pastor at Cascade United Methodist Church in Atlanta, Georgia. She has also served as the first woman Senior Pastor of Warren Memorial United Methodist Church (Atlanta, Georgia), Red Oak United Methodist Church (Stockbridge, Georgia) and the historic Central United Methodist Church (Atlanta, Georgia); the former pastorate of the Civil Rights activist Rev. Dr. Joseph Echols Lowery. She has most recently served as Associate Director of the Center for Congregational Excellence in the North Georgia Conference of The United Methodist Church. a passion for the people of God, and her mission is to reach the outcast for Christ.
Dr. Massey is a proud member of The Atlanta Suburban Alumnae Chapter of Delta Sigma, Theta, Inc. She has written commentary for the African American Online Lectionary and has had a sermon, "The Deciding Vote," published in The African American Pulpit. She is also the recipient of many honors and awards. Dr. Massey has hosted her own television talk show, entitled "Bible Talk," which aired on Atlanta Interfaith Broadcasters (AIB) and she is a much sought-after preacher and teacher.
Currently she serves as the first woman pastor of Kelley Chapel United Methodist church in Decatur, Georgia, another historical first. She enjoys serving the church and believes that parish ministry and community ministry go hand in hand. Having successfully completed her doctoral studies and defended her thesis, "The Impact of Preaching on Church Growth," she graduated May 21, 2020 from Garret Evangelical-Theological Seminary with a Doctor of Ministry. Dr. Massey is the proud aunt of her "seven heart beats," her nephews Marqell, Cory, Franklin, Jacob, Matthew and her nieces Katlin and Justice. She gives God thanks and praise for her blessing and greatest joy, her daughter, Yeremiah Massey.